Massage and Mental Health
October 6-12 was National Mental Illness Awareness Week .
Here's some information from noted author of the book The Touch Remedy, by Michelle Ebbin, a massage therapy expert who believes that holistic practices like massage therapy can play a greater role in helping people keep their mental health in check. She also offers ideas on how to incorporate massage into one's routine at home and also at work.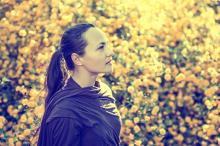 "Massage has been scientifically proven to lower the stress hormone cortisol while increasing the release of feel-good hormones (endorphins) in the body," says Ebbin, a former massage therapist who frequently appears on national TV to discuss the wellness benefits of massage. "Massage is an excellent way to relieve stress, anxiety, tension, worry, and even depression, and it can be easily incorporated into one's wellness regimen at home and work." According to a review summary conducted by Associated Bodywork & Massage Professionals and Ruth Werner, several studies have found massage therapy has benefits for people living with depression, both as a freestanding disorder and as a part of a complicated health situation. Massage therapy also promotes better sleep.