24 Inspirational Health Quotes
Sometimes a little motivation goes a long way, especially when we are tempted with treats, chocolate and the State Fair! Below is the start of 25 Healthy Living quotes to make you smile and possibly give you that extra kick of motivation to live and be the best you can be. So follow the link from Health.com to see the other fun quotes…and let me know which is YOUR favorite!
Cade
Your passion for healthy living brought you here – let's keep talking!
Wisdom, humor, and frankly outrageous sayings we love.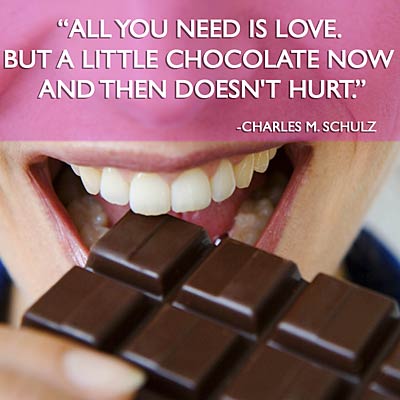 Credit: Getty Images
"All you need is love. But a little chocolate now and then doesn't hurt."
Actually, chocolate can make life better. Dark chocolate may lower your risk of heart disease by reducing blood glucose and bad cholesterol while boosting levels of good cholesterol. The reason: Chocolate contains compounds called flavanols, which have antioxidant and anti-inflammatory properties. Here are 27 Healthy Chocolate Recipes to help you get the most out of every bite!
Get the latest health, fitness, anti-aging, and nutrition news, plus special offers, insights and updates from Health.com!